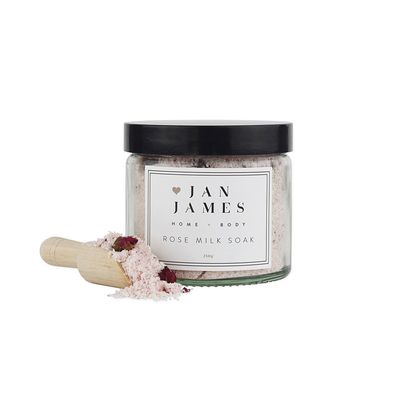 Rose Milk Soak
Jan James
$40.00
or 4 interest free payments of $10.00 with
learn more
Out of stock
Queen of the flowers, rose is an icon of femininity.
But why gift yourself a bunch when you can soak in rose's nourishing benefits and let its decadent scent linger on your skin?
Rose is among the most revered of all essential oils, prized for melting moodiness, easing pain, and banishing stress.
My luxurious Natural Rose Milk Bath blends moisturising coconut milk, mineral-rich Himalayan pink salt, and the purest rose essential oil.
Handcrafted in small batches, Jan James bath products use only the finest natural and sustainably harvested ingredients.
Forever vegan and cruelty-free.
Local love ♥
Jan James is a proud New Zealand business, and I wholeheartedly support fellow Kiwi brands.
My mineral salts are sourced exclusively from New Zealand company, Blants, who offer only the purest natural and certified food-grade salts.
All flower products are by way of boutique brand, Nine Flowers, and are either spray free, organic /certified organic.
Ingredients: Dehydrated Coconut Milk*, Vegan Pink Food Colouring, Baking Soda*, Fractionated Coconut Oil*, Himalayan pink salt* , 100% Therapeutic-Grade Essential Oil, Certified Organic Rose Buds*.
*Denotes organic ingredient
SKU: 10002