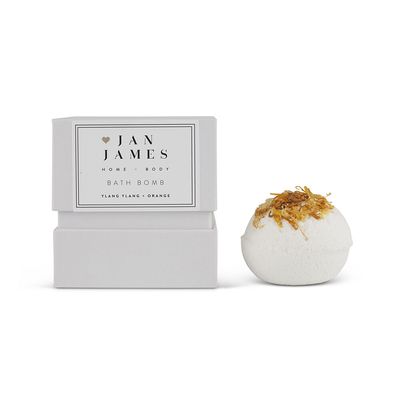 Bath Bomb ~ Ylang-Ylang & Orange
Jan James
$18.00
or 4 interest free payments of $4.50 with
learn more
Out of stock
The bath bombs of your childhood got a grown-up makeover.
The sweet musk of ylang-ylang soothes the soul and sharpens the mind, while upbeat orange is your own private cheer squad, delivering energy and pep. Calendula spells salvation for dry skin.
Free of synthetic colours and scents, and exploding with mineral salts, pure essential oils, and nourishing botanicals. My bath bombs tantalise your senses and love on your skin.
Handcrafted in small batches, Jan James bath products use only the finest natural and sustainably harvested ingredients.
Forever vegan and cruelty-free.
Local love ♥
Jan James is a proud New Zealand business, and I wholeheartedly support fellow Kiwi brands.
My mineral salts are sourced exclusively from New Zealand company, Blants, who offer only the purest natural and certified food-grade salts.
All flower products are by way of boutique brand, Nine Flowers, and are either spray free, organic/ certified organic.
Ingredients: Corn Starch*, Citric Acid, Baking Soda*, Natural Epsom Salts*, Cream of Tartar*, Fractionated Coconut Oil*, Witch Hazel*, 100% Therapeutic-Grade Essential Oils, New Zealand Organic Calendula Petals*.
*Denotes organic ingredient
SKU: 10003-3