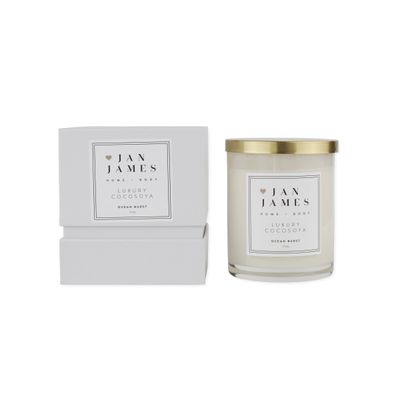 Ocean Burst 350g ( NEW SCENT PROFILE SAME NAME)
Jan James
$60.00
or 4 interest free payments of $15.00 with
learn more
Out of stock
White water, crashing waves and the air pungent with salt. This fragrance is a delight to the senses with a gorgeous blend of herbs, florals and water.

Top notes: Bergamot, Citrus Peel and Sea Salt blended with Beach Sage
Mid notes: Eucalyptus, Jasmine and Lavender
Base notes: Sea Grass, White Cedar, Amber, Rosewood and Musk
♥
Every inch of your Jan James candle has been lovingly handmade in Wellington, New Zealand – from its hand-poured natural wax to the tie of its stylish grosgrain ribbon.
I use only pure cotton wicks and superior CocoSoya wax, to promote candle longevity and clean fragrance release.
As a mark of their exceptional quality, my candles boast a burn time of up to seventy hours.
My expertly crafted perfumes meet the exacting quality standards of the International Fragrance Association and the Research Institute for Fragrance Materials.
Uncompromisingly free of phthalates, my lush, unadulterated candle scents dance throughout your home, subtly lingering on after the flame is extinguished.
Forever vegan and cruelty-free.
PALM & PARAFFIN FREE
♥
Looking after your Jan James candle is key to enjoying its delicious scent for longer. View the Jan James Candle Care Guide HERE.
SKU: 10000